Safety Profile Knives & Limiters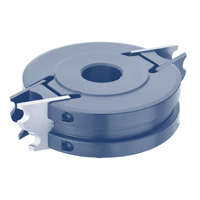 A range of blank and profiled knives and limiters to suit most safety profile cutter blocks (also known as 'universal' cutter blocks. Available in SP tool steel, high speed steel or tungsten carbide tipped qualities.
A range of more than 100 standard profile shapes is available for 40 x 4mm knives and limiters. These are stocked in SP steel and are also quickly available in high speed steel. Similarly, standard profile shapes are available for 50 x 4mm, 50 x 5.5mm and 60 x 5.5mm knives and limiters.
If no standard profile shapes are suitable, special profile shapes can be quickly produced from a wood sample or section drawing. Normal turnaround for these is 1 working week.
For those who wish to grind their own profile shapes, knife and limiter blanks are available ex stock.