Resharpening and Repair - Overview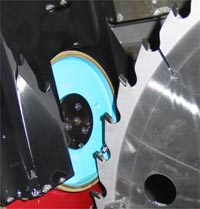 NLS Tools offers a comprehensive re-sharpening and repair service for all types of tooling within our programme. This includes circular saw blades, circular cutters, router cutters, drills and boring tools, machine knives, diamond tooling, bandsaw blades, guillotine and shear blades up to 3m long.
With over seventy years experience in tool & cutter service, you can be sure that, by choosing NLS Tools, your tooling will be professionally reground and will maintain its performance throughout its working life.
When tooling is collected or received at our works, it is logged onto our computer system before being distributed to the various work points. It is then inspected and sharpened or repaired as necessary. Unserviceable tooling will be returned to you without charge. Sharpened tooling will normally be delivered back the following week.
Service Standards
If no specific instructions are received, tooling will be re-sharpened and/or repaired so that all cutting teeth are sharp and without chips. Where, in our opinion, the cost of this would be more than 50% of the cost of a new tool, you will be asked to confirm beforehand that the work should be done. If a specific type of re-sharpening is required, this should be advised when the tool is collected. We will not be held responsible for any damage caused by standard re-sharpening of tooling where this has not been done.