NLS Tools - Bandsaw Blades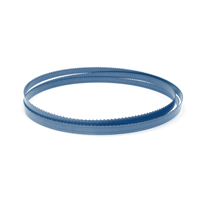 NLS Tools stocks a wide range of bandsaw blades for cutting most materials. We are the UK distributor for Hakansson bandsaw blades, an excellent Swedish make, as well as stocking blades from Starrett, Dakin and Morse.
As well as general purpose carbon steel blades which can be used to cut both wood and metal, this range includes the Hakansson Wood blade, with heavy-alternate-set teeth for fast cutting of natural timber, the Hakansson Citu blade, from spring-tempered steel for straight cuts and veneers in natural timber, alloy steel blades with alternate-set teeth and Swedish steel wide bandsaw blades for resaws.
This range includes general purpose carbon steel blades for mild steel, aluminium, brass, bronze, cast iron, copper etc., Matrix bimetal blades for steels with mild to moderate machinability, and M42 bimetal blades for demanding materials such as stainless steel, nickel and titanium.
For cutting fresh and frozen meat and fish, the Hakansson Citu blade, made from spring-tempered steel, is available in 5 thicknesses.
Hakansson band knives are produced in straight-edged, wavy-edged and scallop-edged versions for cutting soft and fibrous materials.
Choose from our entire stocked range of bandsaw blades and get prices in 4 easy steps.
Order Blades Online
We now have an ecommerce site offering our complete range of bandsaw blades. To order online, go to www.justbandsawblades.co.uk.