Hakansson Band Knives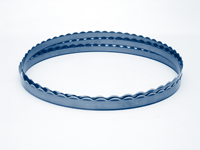 Hakansson band knives are used on conventional bandsaw machines for cutting soft and fibrous materials, such as corrugated boxes, paper, cloth, sponge rubber etc. They produce an extremely smooth surface finish without tearing or leaving jagged edges.
Available with a straight edge for smoothest surface, wavy edge for faster cutting and smooth edge or scallop edge for fastest cutting but a somewhat rougher surface.
| | | | |
| --- | --- | --- | --- |
| Width | Thickness | Type | Part No. |
| 3/8" (10mm) | .020" (0.5mm) | Straight | 318-0600 |
| 3/8" (10mm) | .020" (0.5mm) | Scallop | 319-0600 |
| 1/2" (12mm) | .020" (0.5mm) | Scallop | 319-0800 |
| 5/8" (15mm) | .020" (0.5mm) | Straight | 318-1000 |
| 5/8" (15mm) | .020" (0.5mm) | Scallop | 319-1000 |
| 5/8" (15mm) | .020" (0.5mm) | Wavy | 320-1000 |
| 3/4" (20mm) | .020" (0.5mm) | Straight | 318-1200 |
| 3/4" (20mm) | .020" (0.5mm) | Scallop | 319-1200 |
| 1" (25mm) | .020" (0.5mm) | Straight | 318-1600 |
| 1" (25mm) | .020" (0.5mm) | Scallop | 319-1600 |