NLS Tools - Circular Cutters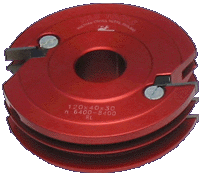 NLS Tools manufactures and stocks a wide range of circular cutters for grooving, rebating, moulding and jointing. We also manufacture cutters to order.
A range of fixed and adjustable width cutters for grooving and rebating.
A variety of cutter blocks for mitring, bevelling, counter-profiling, glue-jointing, nosing etc.
A range of cutters for production of raised panels for doors, furniture etc.
An economical range of cutter blocks for profile moulding on spindles and other manually-fed machines. Taking industry standard 'Euro' knives and limiters, they are available with a wide selection of standard profiles.
For profile moulding with serrated back knives. Available for mechanical feed on moulders or in a chip-limitation version for use on spindles and other manually-fed machines.
A range of replacement TC knives, screws and wedges for the above cutter blocks.
We are able to source most types of circular cutter to order. Please enquire for further details.