Serrated Back Knives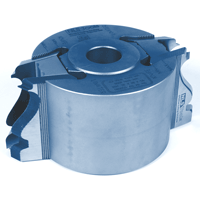 A range of HSS and TCT serrated back knives and limiters to suit non-limiter blocks (for mechanically-fed machines, eg. moulders) or limiter blocks (for manually-fed machines, eg. spindle moulders).
Knives are stocked in T1 high speed steel (18% tungsten) or tungsten carbide tipped versions. Limiters are made from the same high speed steel as the knives. With 60° serrations.
Note that most limiter blocks only accept knives up to 8mm thick. TCT knives are made in 8mm and 10mm thicknesses, so care should be taken to ensure that any TCT knives purchased will fit into your cutter block.
All serrated back knives can be supplied balanced in pairs, if required, to run on high speed moulders at up to 12,000rpm.