Special Profile Whitehill Knives & Limiters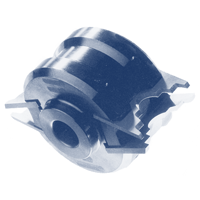 Any special profile shapes can be quickly produced, limited only by the width of the knife and the maximum profile depth obtainable with a particular cutter block.
Each Whitehill cutter block must be used with the appropriate width and thickness of knives and limiters.
Available in 2 qualities:
HSS: High speed steel
For solid woods and short runs in chipboard and MDF.
TCT: Tungsten carbide tipped
For long runs in all materials.
| | | | | |
| --- | --- | --- | --- | --- |
| Dimensions | Type | Quality | Profile Area | Part No. |
| 30 x 45 x 4 | A1 | HSS | 15mm | 505-006 |
| | | TCT | 15mm | 515-006 |
| | | Limiter | 15mm | 539-006 |
| 55 x 45 x 4 | B | HSS | 15mm | 505-007 |
| | | TCT | 15mm | 515-007 |
| | | Limiter | 15mm | 539-007 |
| 55 x 55 x 6 | C | HSS | 24mm | 505-008 |
| | | TCT | 24mm | 515-008 |
| | | Limiter | 24mm | 539-008 |
| 80 x 55 x 6 | D | HSS | 24mm | 505-009 |
| | | TCT | 24mm | 515-009 |
| | | Limiter | 24mm | 539-009 |
| 100 x 55 x 6 | E | HSS | 24mm | 505-010 |
| | | TCT | 24mm | 515-010 |
| | | Limiter | 24mm | 539-010 |
| 100 x 40 x 4 | F | HSS | 15mm | 505-011 |
| | | TCT | 15mm | 515-011 |
| | | Limiter | 15mm | 539-011 |
| 65 x 55 x 6 | G | HSS | 24mm | 505-015 |
| | | Limiter | 24mm | 539-015 |
| 30 x 55 x 6 | A | HSS | 24mm | 505-012 |
| | | TCT | 24mm | 515-012 |
| | | Limiter | 24mm | 539-012 |
| 30 x 55 x 4 | P1 | HSS | - | 505-013 |
| | | Limiter | - | 539-013 |
| 35 x 80 x 4 | P2 | HSS | - | 505-014 |
| | | Limiter | - | 539-014 |