TCT Special Manufacture Circular Saw Blades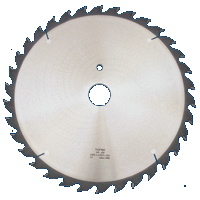 For use where a suitable saw blade is not available from our standard range, where particular dimensions are required or in order to optimise a particular cutting process, for example by improving surface finish, increasing production throughput or reducing material wastage.
Our sales staff will be happy to advise on the best type of TCT saw blade for your application.
When specifying a non-standard saw blade, it will halp us to know what material you are cutting and on what machine. Blade and feed speeds are also helpful. If we have made the same saw blade for you before, then the old blade's serial number, engraved near the bore, will be sufficient information.
Each saw blade is manufactured to the highest quality in between three and eight weeks, depending on type.